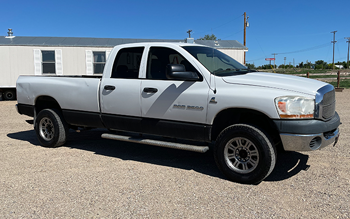 Solid Truck with a Great Service History.

This truck run's and drives like a new one... well better as this one will last longer than a brand new Dodge. I know it's just under 200k miles but we all know these engines are good for 450k. The transmission shifts smooth, runs cool and isn't showing any signs of a future problem. Truck is not turned up. Injectors are strong, tires are good. Rear diff was just rebuilt along with a new front drive line. Steering is as tight as any I have ever driven. Ride is smooth and comfortable. No, no heated seats or any of that unneeded stuff that's probably going to break anyway. This is simply a no fluff, dependable truck.
Need Financing? Apply Now!