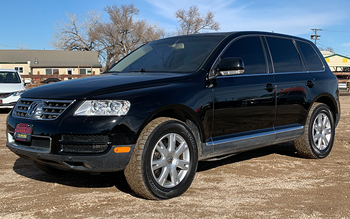 Twin Turbo - V10 - Diesel!!!

Yes, you read that correctly. It is estimated that about 750 of these made it to the US. Are strict emissions made it hard to get them over here and a window sticker of $70,000 greatly limited the market. This is the only one I have seen in person. This SUV has an 8,000 pound towing capacity, heated seats, factory adjustable air ride and lots and lots of buttons. As a rule they are reliable but parts can take a few days to order. Absolute in Rocky Ford is willing to work on this one if the need ever arises. I bought this to see what a V10 Diesel was like. Rides great, plenty of power but in the end its and SUV and I just don't need an SUV, but you might.
Need Financing? Apply Now!