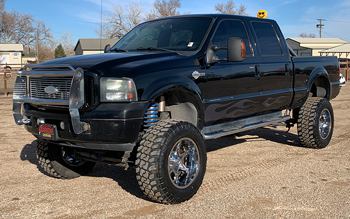 SOLD: This One Got Away!
Lifted Harley Edition!!!

If you want to stand out this is the truck for you. Fabtech 9" adjustable suspension lift. Dirt Logic 4.0 Shocks. 37x13.50 tires on 20" wheels. New batteries, new 140 AMP alternator, EGR Delete, Banks intercooler kit, coolant filter, aftermarket oil filter system, 25% over injectors, custom tunes out of Canada, 4.88 gears and I am sure more. This has been my personal truck for the last 2 years. I have fixed or upgraded everything on the truck. Front suspension is all new within last 5,000 miles including the gearbox and front diff. Everything work as expected or better. No it is not studded. Three diesel mechanics told me this is one of the good ones and to not bother. It does not have any blow by, no leaks, no issues.
No test drives unless you have cash in hand or financing arranged. Even then you must schedule the test drive for me to go with you. This truck is Tall and Fast... its not to be underestimated.
Need Financing? Apply Now!