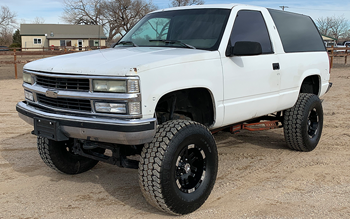 Darn Near Perfect Body!

Remember this truck is 29 years old. There isn't any rust or damage on the body. Sure, it could use a coat of paint but there isn't any rust to repair and there never has been. Absolute Automotive tossed a healthy 350 in her... Story is the transfer case and rear diff were also rebuilt. New high end Fox shots to soften the ride. Vintage ProComp lift kit along with some healthy wheels and tires make this a pretty impressive 90's ride. The truck needs some love and attention as clearly it isn't perfect but the hard stuff is done. This just needs a loving car guy to freshen up some interior pieces or drive her as is. How often do you see 2Dr Blazer anymore?
Need Financing? Apply Now!