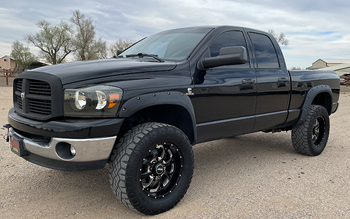 SOLD: This One Got Away!
Big Black Diesel - Low Miles!!!

Damn Boy.... Damn... is it real? Yes, Yes, Yes! it is real. This is a real Cummins with a only 148k miles and wait for it... it's not deleted. It's not messed with, for real. And... yes there is more. It's a black 4 door. This amazing find has the factory jake brake, power rear window. It has been upgraded with remote air bags, touch screen deck, back up camera, and a JL sound system. This truck is almost to good to be true, but it's true. Everything works perfect. It drives perfect, transmission shifts perfect, there isnt any blow by and it look great. There is no sign of any rust and the bed has not been cut for a hitch. Im sorry if you don't like the price, that would be Bideon's doing. Trucks this clean and this low of miles are have just sky rocketed in value.
Need Financing? Apply Now!