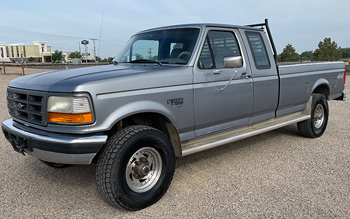 7.3L Diesel - Manual!

This old girl is kinda like my old lady... you gotta let her warm up a little in the morning. She will get the job done, whatever job you ask, but don't push too early. You gotta give her some time to get the oil flowing and fuel burning. Injectors and a list of other parts recently replaced. Have the bill for over $5k. I promise this isn't the fastest diesel around but it will get the job done and/or get you where you want to go. Everything works... everything she has that is. AC blows cold and at multiple speeds. The windows roll up and down, roll being the key word. The doors open and close, the clutch moves in and out, the lights all work... that's about all she has for options. Oh, the seats move back and forth. No she ain't got no heated seats or power folding mirrors. Honestly, this is a very solid truck that likely just needs driven a little more. Just like the old lady... you leave her sitting in a field and she wont be treating you very nicely. Pay her a little attention, show her a little love and she will stick by you for life.
Need Financing? Apply Now!