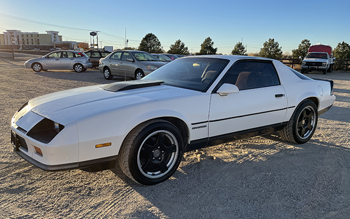 SOLD: This One Got Away!
Big Boy Toy! - Sleeper?

This is certainly a Big Boy Toy, but it might not be much of a sleeper based on the sound of the cam. This car is what happens when you taken an 86 V6 Camaro and mix it whit some real Merica' Muscle. It is for sure a new SBC with an Edelbrock carb and Intake along with a built transmission. I just don't have the build details. My assumption is a 383 Crate motor based on owning a dozen Camaro's. That is a guess... It does have 58cc 2.02 Iron heads. You need to hear the lope in this cam. Nothing is stock on this car from the Diff to the Carb. Interior is very clean, dash isn't cracked. No test drives without cash in hand and no we don't have more details. You need to be a real car guy to understand this car. The engine is worth what we are asking. Full autocross suspension, highway gears, 4 wheel disc brakes, 4-speed transmission. Come see it for yourself
Need Financing? Apply Now!