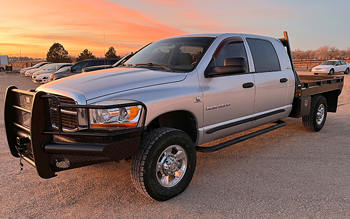 LONGBED - MegaCab - Local Trade!

Yes, you read that right. This is a long bed megacab. It has a full 8' flat bed on it. This is a local truck we took on trade. HAs been serviced at Absolute for years. The engine has 150k miles. Absolute replaced the engine a couple weeks ago. I knew gaskets, full inspection while engine was out. Truck run's and drives great. In need of nothing. The Frame work looks like factory as it is almost factory. Frame was not stretched. The frame was separated at the factory welds and a long bed rear frame section was slide inside the front frame section same as the factory would have done it.
Need Financing? Apply Now!