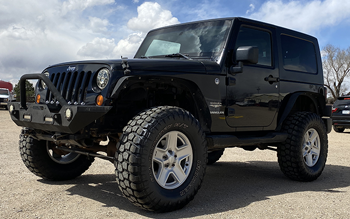 Hard Top - Automatic - Lifted!

Spring is just around the corner, get your hands on this great Jeep in time to truly enjoy Colorado. This Wrangler already has a nice lift kit, new 35's, new Jeep wheels and high clearance fenders. Just need to a few finishing touches to make it yours. No death wobble, no mechanical issues and no back seat. I know you're going to ask, so better point it out now. I have no idea why the back seat is gone. I removed the back seat from my Jeep for more space. Some people just prefer it.
Need Financing? Apply Now!