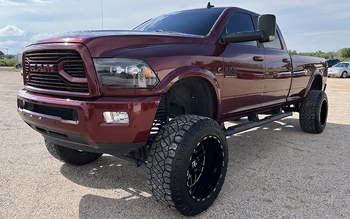 SOLD: This One Got Away!
She is Big, She is Bad and She is FAST!

I know you don't like the price tag but try buying a stock 2018 Laramie, then lift it, then buy 22x12s, then buy 37" tires. Now that it looks great, you still have to buy a tuner, full exhaust and find someone to delete it. If you would prefer to have a stock truck then come look at our stock trucks. This isn't the truck for you. The mods do not lower the value even though you don't like them. The guy who buys this truck will love them. You're free to express your complaints on Facebook but as usual I will ignore them.
Did you catch where I said "delete"... OMG! Yes, this truck has been deleted. If you are living in Denver you gotta get your neighbors to vote better if you want a truck like this. I have a clean 2003 you can buy. For the rest of us, this truck is sick. It needs nothing. Everything works as you would expect. It's a Tuned 2018 Ram, the last great Ram made, at least for now.
Need Financing? Apply Now!