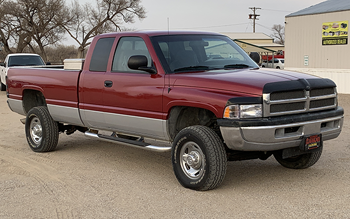 Literal Little Old Lady Truck - 99 Years Old!

Im not kidding the lady who traded this Spectacular Truck was actually 99 years old. She had owned the truck for 17 years and was simply tired of it. She wanted a Chevy. I know right, but who am I to argue with a 99 yr old Rancher male or female. Im not get my butt kicked by a little old lady. Of course the truck was used on the ranch. Why else would you have bought a Dodge Diesel 17 yrs ago. The truck has never been wrecked. Never been tuned. Never been lifted. Never had fat tires sticking out the side. This truck is a true survivor. Used yes, but never abused or neglected. Not a single spot of rust.
Need Financing? Apply Now!