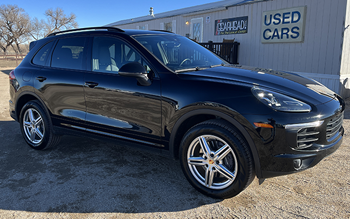 SOLD: This One Got Away!
Reliable? Heck YES!

Most people I know, know almost nothing about a Porsche Cayenne. They don't even know how to pronounce the name. Let me assure you, Porsches are one of the finest if not the finest vehicles made. They are superior to Ford, Chevy or Dodge when it comes to reliability and I am willing to say they are even better then Honda or Toyota. Let's not talk about the 912 or early 944s. Every brand has a few black sheep. Back to this Cayenne, it has the option you need as in heated and cooled seats, navigation, leather, Bembro brakes and more stuff you don't even know you need. What it doesn't have is a turbo. Being the lower trim level it is even more reliable. It does not have to go to Porsche for service, Absolute in Rocky Ford has you covered. Of course it will not pull 40,000 lbs like a Cummins but it sure rides better.
Need Financing? Apply Now!