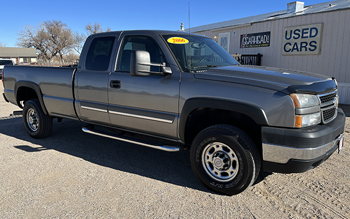 Will You Look At That!

Damn... it's an 06 Duramax with only 138k miles. An 06.... Boys and girls this ain't no rough riding Cummins. This is the Cowboy Cadillac. This is the seat laid back, long hauler. This is the one your wife wants. This is the one all the retired guys want to pull their 5th wheel and with only 138k miles you know she has many many years of travel left in her. The best thing is no DEF to deal with. No complicated emission system to give you trouble. No injector issues. All the reliable power you need from a diesel. Interior is like new, truck runs like new, truck rides like new. Better snatch this one before trucks like these are gone.
Need Financing? Apply Now!