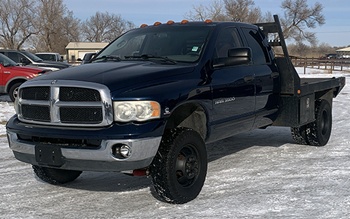 SOLD: This One Got Away!
Manual - Manual - Manual!

Yes, this one is a Manual. Yes, this one is Pre DEF and Pre EGR. This truck is completely legal to tune in CO. The only thing needed in 04 to pass emissions in CO is a cat. This is the last of the great diesels. The last pull anything. The last always get you home. The last of the fuel efficient trucks. Jan 1st this becomes the last tunable diesel to be street legal in CO. And.... wait for it.... IT IS BLUE! I don't know why but everyone wants these trucks in blue. They always sell faster than other colors. Of course this one runs great, doesn't have any blow by, no leaks. Anything you don't like about it doesn't matter because it is a MANUAL!!! One last thing... I have no idea why it has those sheet metal screws in the dash trim. Im hoping to find new pieces on ebay. Get over them, it's a MANUAL.
Need Financing? Apply Now!