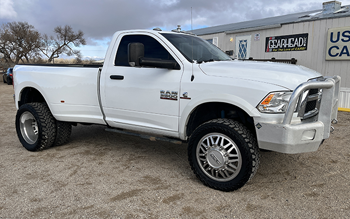 SOLD: This One Got Away!
The Beast!

I mean it, this truck is a pulling beast. It started life as just a Ram 3500 Dually with the Max Tow package. In its self that is a beast of a truck. I have since added a Fleece Turbo, (with Jake) full 5" exhaust including a high flow manifold to reduce temps. She does have a muffler because Im old and don't like drone on 20 hour trips. Fully deleted with a race me tuner. Knowing heat is the enemy I added a massive aluminum radiator. While doing that I changed the water pump, fan and belt. Because I wanted my transmission to last as long as the engine I put 4:88 gears in her. Yes, 4:88s the same as the 4500 and 5500s. This greatly reduced the stress on the transmission which I might add has been serviced every 50k miles. Bands have ben adjusted as needed. She is sitting on direct bolt DDC 22" Billet Wheels wrapped on Yokohama's. Time is money so I added a 30 gallon Titan auxiliary fuel tank. She gets 15 mpg empty and 11.5 to 8 mpg loaded depending on load and head wind. This has been my personal work truck for the last 100k miles. I basically make my living transporting my cars with the girl. I have take excellent care of her, but, yes I worked her. This truck has never been a daily driver and has seldom been driven without a trailer attached.
Need Financing? Apply Now!