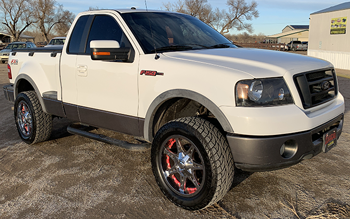 Sick and Kinda Rare!

Yes, for an F-150 these quarter cabs are kind of rare and actually pretty rare in a 4x4 flare side. You try finding one. I bought this one in Texas for myself. It is exceptionally clean for an 07. The wife fell in love with a Regular Cab Chevy so I am going to let this one go. I have driven it to the Springs and Denver many times. I would take it anywhere. Good on gas. It's peppy for a gasser. Lots of room for a stereo system or tools. It's not going to go down in value if you take care of it and it wont blend in to a sea of farm trucks.
Need Financing? Apply Now!