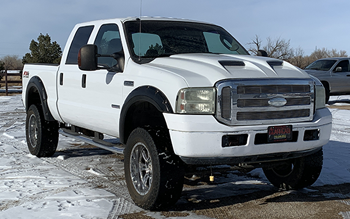 Horse Power to Spare!

That what the song says and I don't disagree. If you want the fastest truck that isn't going to randomly explode you want 6.0 Ford. Pretty much never worry about your transmission when in a Ford. It isn't a 6.4 so it isn't going to randomly explode. The EGR has been deleted so it wont lock up on you. With the right few mods these are simply, good, fast trucks. I'm not scared of 6.0s. I have owned several of them. The key is in using the right parts when stuff does wear out. This truck runs strong, starts right up, sounds good, no blow bye, no coolant pressure, no rust. It has not been studded as it never needed studded. If you needing an affordable diesel you should consider this one.
Need Financing? Apply Now!