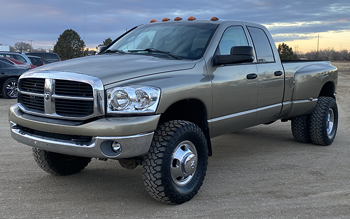 SOLD: This One Got Away!
DAMN, DAMN BOY!
 
You know you made it when you can walk right passed the brand new, emissions restricted, muffler fluid drinking, wanna-be diesel and drop down a fat roll of cash for a MANUAL, 6.7 Dually and Damn what a dually.... A Hundred & Thirty Five Thousand Miles! Not a Freaking Spec of rust...  Just Damn... Every high school country boy be Dreaming about this ride. Sittin' Tall and THICK as can be on some 35s. Oh, That Booty, you gotta be looking at that Big Booty. Sure she got the power to out run the wind with that second gen swap but this ones all about that LOOK. Damn Boy, she be looking Perrrty. You won't be thinking about that massive clutch created for pulling freight trains. Heck, you won't remember your girls name when you roll up to the club in this dream ride.
Need Financing? Apply Now!