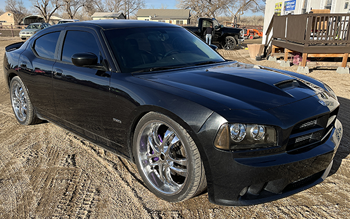 I wanna be a baller!

Baller, Shot Caller, 22 inch blades on the Charger... SRT8 to out run the heat... Sub in the back to make the ladies.... Whoa, whoa there. Got a little carried away with this sick ride. Who doesn't love that purple engine? This ride is in need of nothing but someone wanting to cruise a flashy, loud, fast, and oddly reliable ride. Sure the wheels rub a little but they are Twenty TWOs!!! On a DROPPED Charger with a HEMI. Ain't no Ballers crusin in a V6.
Need Financing? Apply Now!