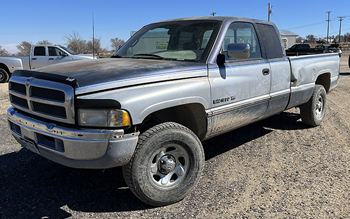 4x4, Run's & Drives!

What do you expect in a 4x4 truck for $2,850. It's warrantied to the end of my driveway. Why sure is was inspected by a mechanic saw it... and says that it an old Dodge that seems to runs. Does it leak? Im sure it leaks a little of everything but there arn't any puddles on the ground. Does it smoke? Less then a diesel. How are the tires? Excellent probably worth as much as the truck. Radio, heat and AC work? I don't know... heat seems to work. Radio makes noise. No idea on the AC. Im asking $2,850. Im not detailing it, Im not fixing anything on it and I ant promising nothing but an old farm truck.
Need Financing? Apply Now!