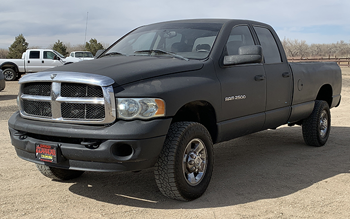 SOLD: This One Got Away!
Beautiful, Show Ready.... LMAO or not!

I'm sure you have seen an athletic, beautiful, perfectly trained Border Collie, well that ain't this truck. But stick with me. You know that grouchy old man you see around town with the grumpy, obstinate old hound dog? Stinky, battle scared, loyal to a fault. The one you know will defend that old man with his life. That's this truck. A few battle scars, grumpy, might crank a little longer on cold mornings but this old 5.9 will get you home when the job is done. Just like that loyal old hound this truck will grow to be family. No apparent issues. Run's surprisingly well for the miles. Just has some character.
Need Financing? Apply Now!